What is Microsoft Power Platform?
Microsoft Power Platform is a basically a set of applications intended to bridge the gap between business users and the Microsoft (or other) technology interfaces that they use through a simplified low\no coding design model for process automation, data analysis, and more.
Power Platform is mainly comprised of 4 independent components which commonly use Microsoft Data verse, AI Builder and Data Connectors of Microsoft Azure: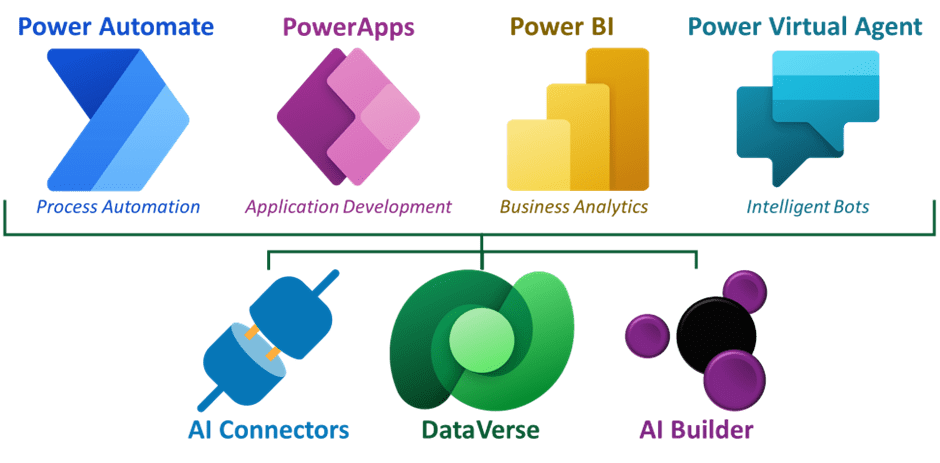 Power Apps helps craft better solutions in minimal time and money
Microsoft Power BI
Power BI (where BI stands for Business Intelligence) facilitates creation of interactive insightful real-time dashboards from data placed in almost any data source. Its specializes in connecting and consolidating data with a rich set of analytical patterns. 
The beautiful graphs created with Power BI come with additional abilities to slice & dice the data further through its advanced filters and other querying capabilities which truly empower business decisions to be made through educated static based inputs. 
Microsoft Power Automate
Power Automate (previously named Microsoft Flow) is an RPA (Robotic Process Automation) that allows replacing repetitive manual tasks with intelligent automation through its workflows and connectors that facilitate business process automation within applications and across different apps and services.  
Power Automate has a range of functionalities like integrating applications within and outside Microsoft Cloud through standard and purpose suited custom workflows. Strong data connectivity, built-in platforms that are seamlessly integrated together to give you a fuller, intelligent, automated experience is what Power Automate can do. 
Microsoft Power Virtual Agent
Power Virtual Agents are virtual bots that facilitate intelligent communication capabilities without needing manual involvement. In its most basic state, Power VA can be used for standard FAQ and with relative ease the same bot can be equipped to handle advanced queries and tasks like form submission, etc. 
Microsoft PowerApps
Microsoft PowerApps is the means of rapid development of applications with or even without any code. Even with its minimalist code layout, PowerApps can be built to accommodate complex business logics. Another great advantage is that these apps natively support usage on different devices like Android & iOS Mobile\Tablet devices and work equally well on laptop\desktop on web. 
PowerApps are mainly of 2 types: Model-driven & Canvas, which can be made to work across a diverse range of data sources and are highly customizable. 
Whom is Microsoft Power Platform for?
Typically, Microsoft Power Platform is for organizations using any of the services belonging to the Microsoft Platform like Microsoft 365 \ Office 365, Microsoft SharePoint, Microsoft Dynamics, Microsoft Azure, etc. Although organizations using other platform like Google Business, etc. can also use it will same ease, but as a general practice, each platform comes with its own set of connectors, accelerators, etc. 
In either case, Power Platform is useful whenever there is a need to extend \ automate the functionality of an application, establish a connectivity \ data interchange between different apps or data sources, data analytics and more and most importantly this platform is not a "developers only" zone, meaning that business users can create application forms, graphical dashboards, automation workflow with ease. 
So, the simple answer to "Whom is Microsoft Power Platform for" is "It is for Anyone and Everyone". 
Architecture of Microsoft Power Platform
Power Platform components can be used independently or can be used as the interwinding means for connecting\utilizing other custom\standalone apps or Microsoft apps based on Microsoft Azure, Microsoft 365 and\or Microsoft Dynamics 365. 
Diagram given below gives an overview of how the connectivity of these components highlighting their specific purposes to Analyse, Automate and Act
Key Advantages of Microsoft Power Platform
Conclusion
We are a domain professional with extensive expertise, in implementing, upgrading, integrating, and customising Microsoft services to fulfil unique requirements. Simply put, we assist businesses in putting their goals into action. Power Apps, Power BI, Power Automate etc. For questions about pricing and purchasing options for your business or review standard plans, costs, and availability to start running business apps.  
Send us your inquiries
Reach us for the best solution