Kanban board plays a vital role in visualizing and managing the work in the best manner. It helps you to Focus on your business flow, allow your teams to communicate and collaborate with each other more easily.  If you are having your own
Dynamics CRM
then it provides you with the various amazing feature that helps you with your business processes.
Soluzione Inc Interactive Kanban Board for Dynamics CRM
has amazing feature that acts as an indicator throughout the application and helps you to know the exact status of your work. The status of the record is usually available at the bottom left of your screen. But it is quite a painful task if you have to view the status of the ample amount of records, although you may sort the record by creating an individual view of it. Then again if you have to change the status of multiple records it is much more painful and there is no short-cut for it. SolzSwimlane tries to find out the simple yet interactive solution for it.
SolzSwimlane – A type of Kanban Board for Dynamics 365
It is a fun way to work with your CRM. With this addon, we tried to replace the long procedures with the simple fun solution.
---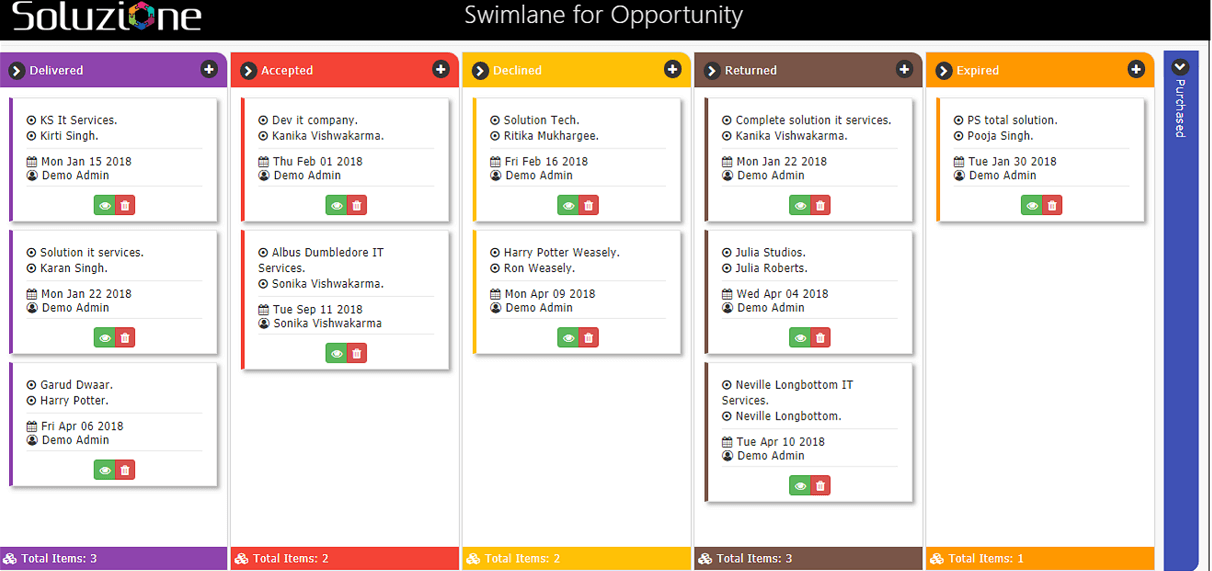 ---
Above is the screenshot of the SolzSwimlane which gives you a complete information about the record with various colours that signifies different status of the records in the Opportunity Entity. You might be wondering that configuring a Kanban board in your system can be a difficult task. But it's not true, it just takes few steps to configure it in your CRM.
---
How to configure Swimlane?
The navigation steps to see Swimlane option would be: Navigation Bar: 
Settings Area >>> Swimlane Tab
Please refer below screenshot for reference:
---
---
The below screen will appear on selection of swimlane tab. User will click on the
+New
button to configure swimlane for the particular entity. Please see below screenshot for reference:
---
---
Select Entity name, for the sake of example, lets select Opportunity. All fields available in the selected entity will appear in Item Name 1 and Item Name 2 which will be displaying on Swimlane board's card. Please see below screenshot for reference:
---
---
In below screenshot, I have selected Account field (it will display name of Account) for Item Name 1 and Contact field (it will display Primary Contact name of that Account) for Item Name 2. The default status of Swimlane would be "Enabled". Click "Save" button shown in below screenshot instead of CRM's "SAVE "and "SAVE & CLOSE" button.
---
On Opportunity view You will find new button named as Swimlane at the top left of ribbon button section. Click on it to open Swimlane for current entity.
---
---
As you will click the button you will be able to view the Swimlane, now you are all set to take the advantage of SolzSwimlane.
---
---
Using a Kanban board is as easy as writing a sticky note and pasting it to a whiteboard, so anyone can use them for just about any purpose. Most importantly it does not impose its own rules and work completely as per your business rules for Status Reason. We helped
Soluzione Client Priority funding
with their custom
Dynamics CRM Development
needs. In case of any query, you can contact us at
[email protected]
Hope to keep adding value, it then Happy CRMing…